WHAT IS TRI BLEND SELECT?
TRI BLEND Select is a wellness protein shake that is 100% uncompromising: carefully sourced natural ingredients delivering optimal nutrition and delicious flavours. A perfectly balanced blend of pea, quinoa and flaxseed, this shake delivers a 100% complete protein, that is also high in fibre and low in sugar.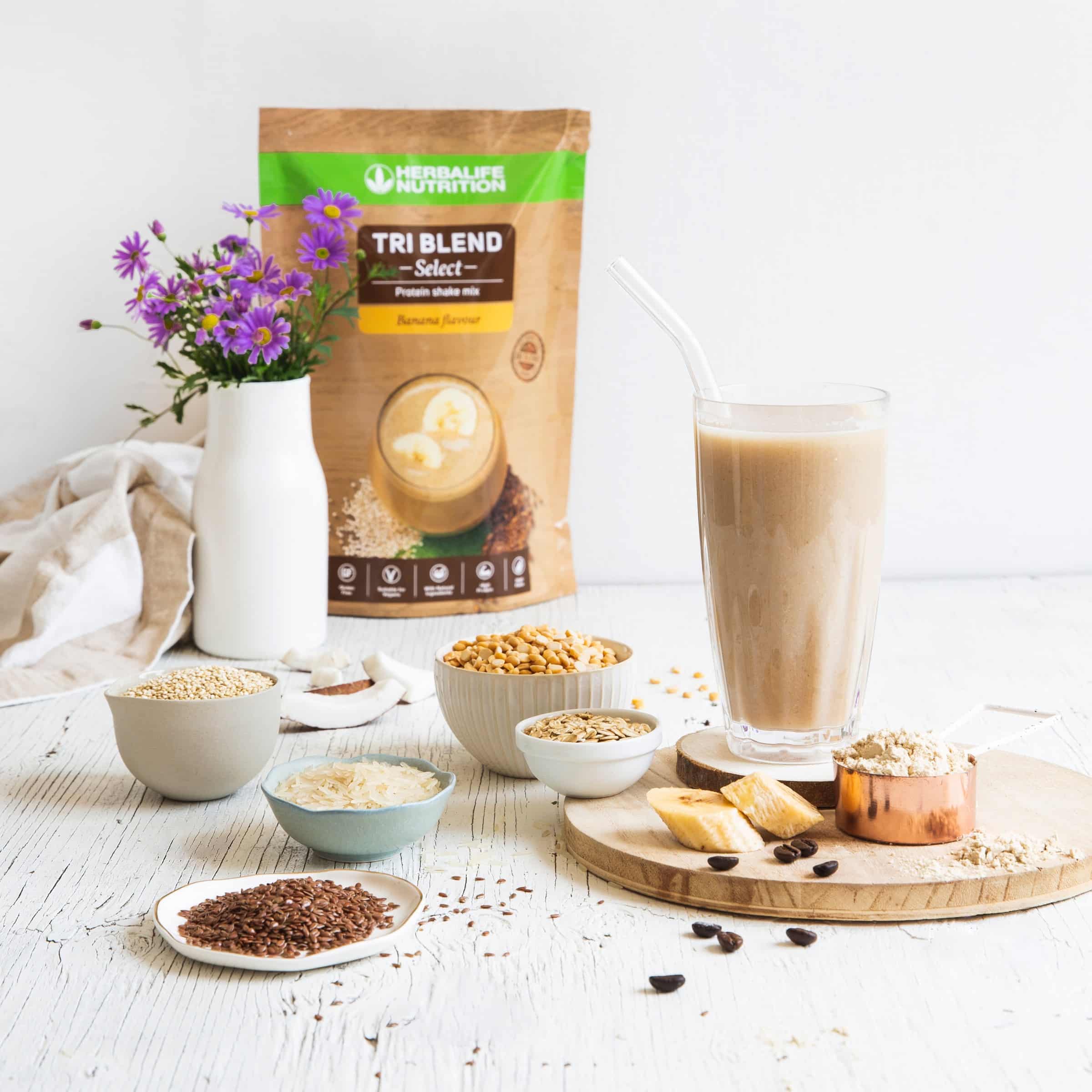 WHY TRI BLEND SELECT?
Many products on the market are are not complete sources of protein, which means they do not contain full spectrum of amino acids making them ineffective in supporting lean muscle mass, satiety or immune system support. Tri-blend Select contains a unique combination of pea, quinoa and flax seed as part of a premium protein blend that provides all the essential amino acids found in a complete protein.
Plant-based protein foods are considered to be a healthier source of protein when compared to animal-derived protein foods, due to the reduced content of saturated fat.
Many clean label/ all natural products in this category generally have just an average nutritional profile. Tri- blend Select contains Vitamin C and 7 key minerals
Contains Vitamin C which helps reduce tiredness and fatigue, improves energy levels and protects cells from oxidative stress
Zinc helps maintain cognitive function such as memory and concentration
Iron helps maintain a normal immune system
When you care about the environment and climate change as much as you do about the food that nourishes your body, you're often forced to compromise on taste and quality. Herbalife became obsessed with making Tri Blend Select taste amazing while keeping it naturally-sourced.
Key Benefits
Best in class ingredients with best nutritional profile.
Blend of Pea, Quinoa, Flax seed & Rice Proteins, providing a complete protein source.
20 gr of protein per serving
All the vitamins and minerals present come from natural food ingredients (Vitamin C and 7 other vitamins and minerals)
High in fibre (6 gr per serving)
Low in sugar: Low Glyceamic sugar sources Coconut Blossom and Stevia.
100% Vegan
No added colours or artificial flavours
No preservatives, GMOs or allergens such as soy and dairy or gluten

USAGE
Mix 3 scoops of TRI BLEND with 250ml – 300ml (or more depending on the consistency required) of water or your favorite juice or alternative milk (we recommend almond)
Enjoy after exercise as the perfect post-workout recovery drink and as a delicious reward for your efforts
The perfect shake to accompany your lunch-time salad. Extra protein, extra fibre, extra flavour
Ideal for baking – from crunch cookies to power packed protein balls, use our recipe booklet for inspiration
Mix with oats, seeds, berries and yoghurt for nice and easy Overnight Oats – perfect for a personalized breakfast
Use as a healthy snack.
Mix with your Formula 1 for a great meal replacement such as breakfast and lunch
PRODUCT OVERVIEW
Tri Blend Select is a high protein and low in sugar with ingredients sourced naturally and are plant-based. We searched the planet to source the best possible grade of every single ingredient in Tri Blend Select, like Quinoa from Colombia and Flax Seed from Canada.
Tri Blend Shake – Organic, Natural Ingredients
From the dense jungles of Colombia to the Canadian prairie, the Tri Blend Select story is woven together by the people, the places and the philosophy that make it so unique. We scoured the planet to source the best possible grade of every single ingredient:
Pea – Pea protein is easily digested and has a lower allergy risk than common protein sources, such as soy and dairy. Peas have been cultivated in France for thousands of years, which is why we source our peas there. Centuries-long pea production experience coupled with that famous French gastronomic air mean that our naturally-sourced French peas are simply fantastique.
Flax seed -Traditionally used to relieve abdominal discomfort, flax seed has hidden superpowers: it's high in alpha linolenic acids (one of the heart-friendly omega 3 fatty acids) and rich in protein, fiber and minerals like phosphorus, which works with calcium to build bone strength. When cultivated in a northern climate, the alpha linolenic fatty acid content and iodine value of the flax seed is turbo-charged, which is why we source our brown organic flax seeds from Canada.
Quinoa – Is a highly nutritious and richer in protein, healthy fats, vitamins and minerals than other grains. Plus, it's gluten-free! We work with family farms in Colombia, who have been growing this nutritious plant for generations. Their commitment results in what we consider to be one of the Highest-quality quinoa in the world.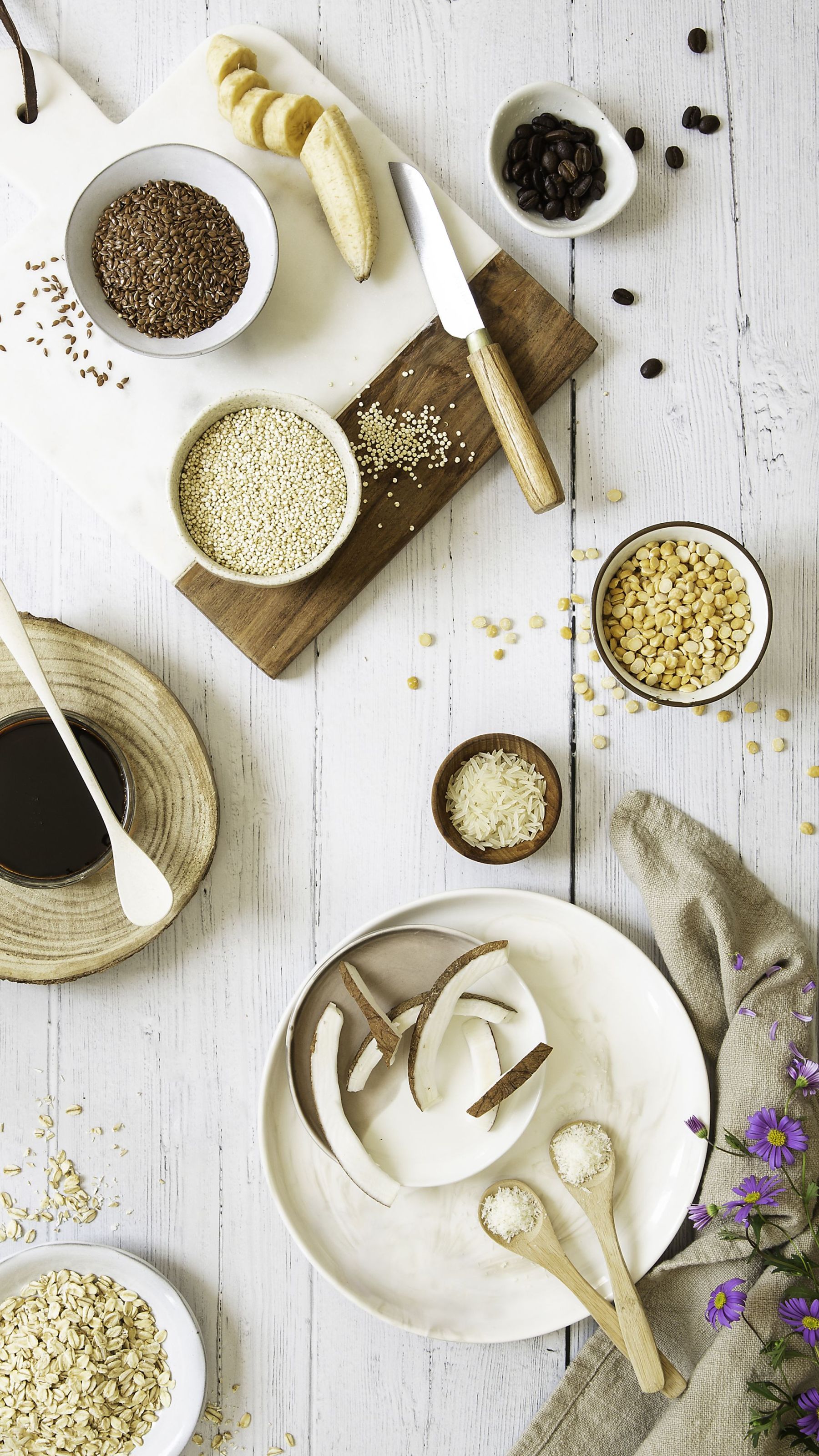 These three are the main proteins that make up Tri Blend Select, but the mix also includes high-quality, locally sourced ingredients such as coconut blossom nectar, chicory root inulin, rice protein powder, oat, acerola cherry, and stevia.
COCONUT BLOSSOM NECTAR
Coconut sugar is made from the juice of the flowers of the sub-tropical coconut palm. Flowers juice is collected, heated on wood fire and what is left is aromatic caramel-like substance. Our source of coconut blossom nectar in Tri Blend Select comes all the way from an organic farm in Indonesia where farmers still use the traditional methods without the need to add anything artificial.
CHICORY ROOT: INULIN
The compound from chicory root, inulin, is added to many common foods because it can boost its texture, giving some sweetness and providing extra fibre. Inulin also reduces LDL "bad" cholesterol. Inulin in Tri Blend Select comes from chicory root farms in Belgium and Netherlands, selected for the consistently high quality produce.
RICE
Rice was first domesticated in China and incredible thing about it is that rice protein powder contains over 80% protein that is rich in two amino acids: cysteine and methionine. Rice protein, together with quinoa, flax and pea protein in the right ratios make Tri Blend Select a source of complete, nutritious, vegan source of protein, which is the key for our lean muscle mass, immunity and satiety.
Our rice comes from south-eastern China where high temperatures and plentiful of rainfall create perfect environment for growth of the highest quality rice in the world.
OAT
Oat contains a fiesta of nutritional compounds, including soluble fibre beta-glucans, which have been shown to reduce blood cholesterol and glucose absorption. Our oats come across Europe from pioneering oat farmers and are superior in quality, nutritional value, freshness and flavour.
ACEROLA CHERRY
Acerola cherries are packed with nutrition, containing 37 times more vitamin C than the equivalent amount of oranges. They are naturally low in calories, rich in iron and antioxidant properties. Our Acerola cherries come from the lush orchards of north-eastern Brazil where they are organically farmed and carefully harvested by hand. Its farmers have created a naturally balanced ecosystem that brings the highest fruit yields whilst respecting the local area.
STEVIA
The stevia plant is native to South America where it was first consumed over 200 years ago when the indigenous people used the plant leaves to sweeten their beverages or chew them as a sweet treat. The naturally present sweetening components of stevia are 200-300 times sweeter than sugar and do not contain any calories. It also has low Glyceamic Index. This makes it a perfect choice for Tri Star Blend. Our Stevia comes from trusted farmers across Asia where it has been grown for centuries.
INGREDIENTS
Tri Blend Select embodies everything that we at Herbalife Nutrition are passionate about: social responsibility, advanced nutrition, and best-in-class products. More information on the ingredients below including the photo gallery.