Here's a snack option, Mini(Muffin) Frittatas…a good alternative to those carb based snacks which cause swings in blood sugar and energy levels.
With snacks we usually recommend getting a balance between protein, vegetable or fruit snacks. Not always going for the fruit option. The key point is to get some protein with each snack, so 4 almonds with an apple, some fruit with Greek yogurt or cottage cheese etc
Well you can make a frittata with anything you have lying in your fridge that needs using up but what would make the most filing snack? Protein, fibre and nutrients help control appetite.
You can add mushrooms, onions, asparagus, bell peppers, red onion, spring onions, peas, spinach, leeks, kale, roasted butternut squash, broccoli, courgette(Zucchini), sun-dried tomatoes(fresh ones too watery), favourite fresh herb; such as parsley, thyme, rosemary or chives, grated cheese, ham and chilli flakes. These muffin frittatas are easily customisable.
Best ingredients ??
High protein vegetables – per half cup peas (3.5g), spinach (3g), broccoli (2g) and chickpeas (7.5g). And vegetables are also high in fibre. See chick pea and rosemary flavour combination below for most protein packed option..
Best cheese – feta, parmesan, emental ( swiss) Strong in flavour so you don't need that much, and lower in fat and higher in protein than other cheeses. Also you can use cottage cheese. or any cheese you are only sprinkling a little on the top..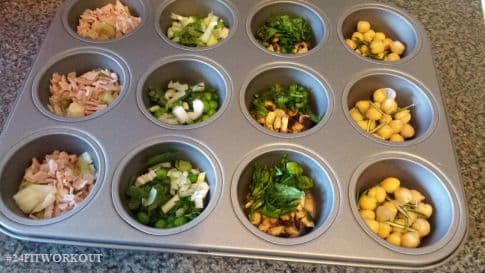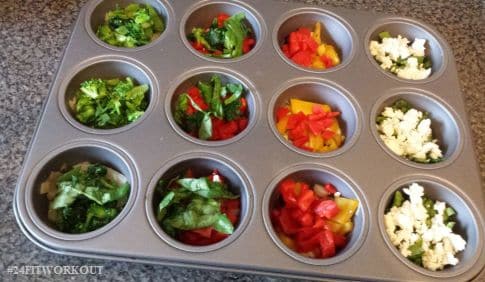 Preparing the veggies:
Any combination of ingredients can be added to the dish, but keep in mind that those that contain excess moisture like mushrooms, peppers and courgette need to be -pre-cooked. Sauté until vegetables soften, about 2 minutes.
Cook spinach in 1/4 cup of water in a covered saucepan until just wilted, a couple minutes. Wrap the spinach in paper towels and squeeze out as much moisture as you can. Then chop into small pieces. If you are using tender baby spinach instead of mature spinach, you don't need to pre-cook. Or just pour boiling water over it and then squeeze out the water.
Cut broccoli into small, thumbnail-sized pieces and set in a bowl. Boil the broccoli for 2 mins. Drain well.
Cook the asparagus under the grill until just tender.
Onions need to be pre-cooked as not enough time to cook them otherwise.
To make 12 in a muffin pan like this – you need 6 eggs (you may wish to lose a few yolks to reduce the fat) Using egg whites lowers calories and fat.
Ingredients
6 large eggs
1/2 cup of low fat milk
1/4 tsp. salt
1/8 tsp. pepper
Veggie mix to fill half the muffin cups
Directions:
Preheat the oven to 375C (190F)
Spray muffin tins with non-stick spray.
Saute onions and cook until soft, about 2 minutes. Add in the other vegetables and cook another 2-3 minutes.
Whisk the eggs, milk, pepper, and salt and herbs in a large bowl to blend well.
Scoop vegetable mixture into the muffin cavities, filling about 1/2 full.
Pour egg mixture over each one, careful not to overflow the cups.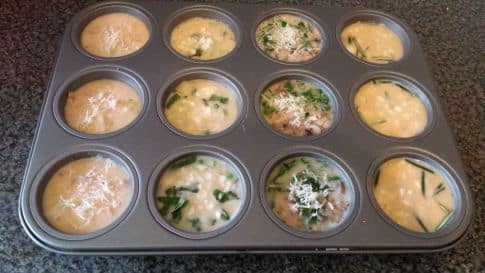 Add some grated cheese or sprinkle feta cheese on top.
Bake until the egg mixture puffs and is just set in the centre, about 20 minutes.
Let the frittatas cool so they are easier to remove
You can refrigerate them up to 3 days or you can freeze them
Flavour combinations, some ideas

ham, leek, parmesan.
peas, mint, green onions, feta
spinach, mushroom, feta
chick peas, rosemary, parmesan
onions, spinach, broccoli, parmesan
onions, bell peppers, spinach, feta
green onions, red pepper, yellow pepper
spinach, feta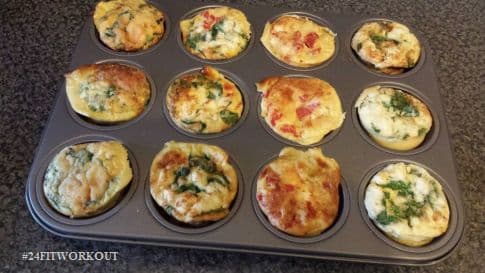 Typically 60-70 calories/ 5-6g of protein. A snack is usually in the range of 50 -150 calories.
Not quite the same amount of protein as a Herbalife bar( 10g) or soy bean( 9g) but another snacking option and better option to a carb based snack.